Basic
$50
License valid for 6 months
Extract unlimited businesses
Use the app on 1 PC
Automatically run multiple searches
Pro
$100
License valid for 6 months
Extract unlimited businesses

Use the app on 3 PCs
Automatically run multiple searches
Plus
$300
License valid for 6 months
Extract unlimited businesses

Use the app on 10 PCs
Automatically run multiple searches
Payment for all the plans is made only once, there is no monthly or yearly subscription, license will expire after the allowed period and if you want to extend the license period you can buy another license.
The app can read a list of search terms from a text file, to obtain data fields for a larger number of search terms. There's no need to search each one manually: simply create a text file with one search term per line, and the bot will automatically search using these terms to extract the corresponding data fields. This feature is only available in Pro and Plus plans.
For any additional features to this app, please contact us for a custom quote.
Screen shot
Below is a screenshot of the full version.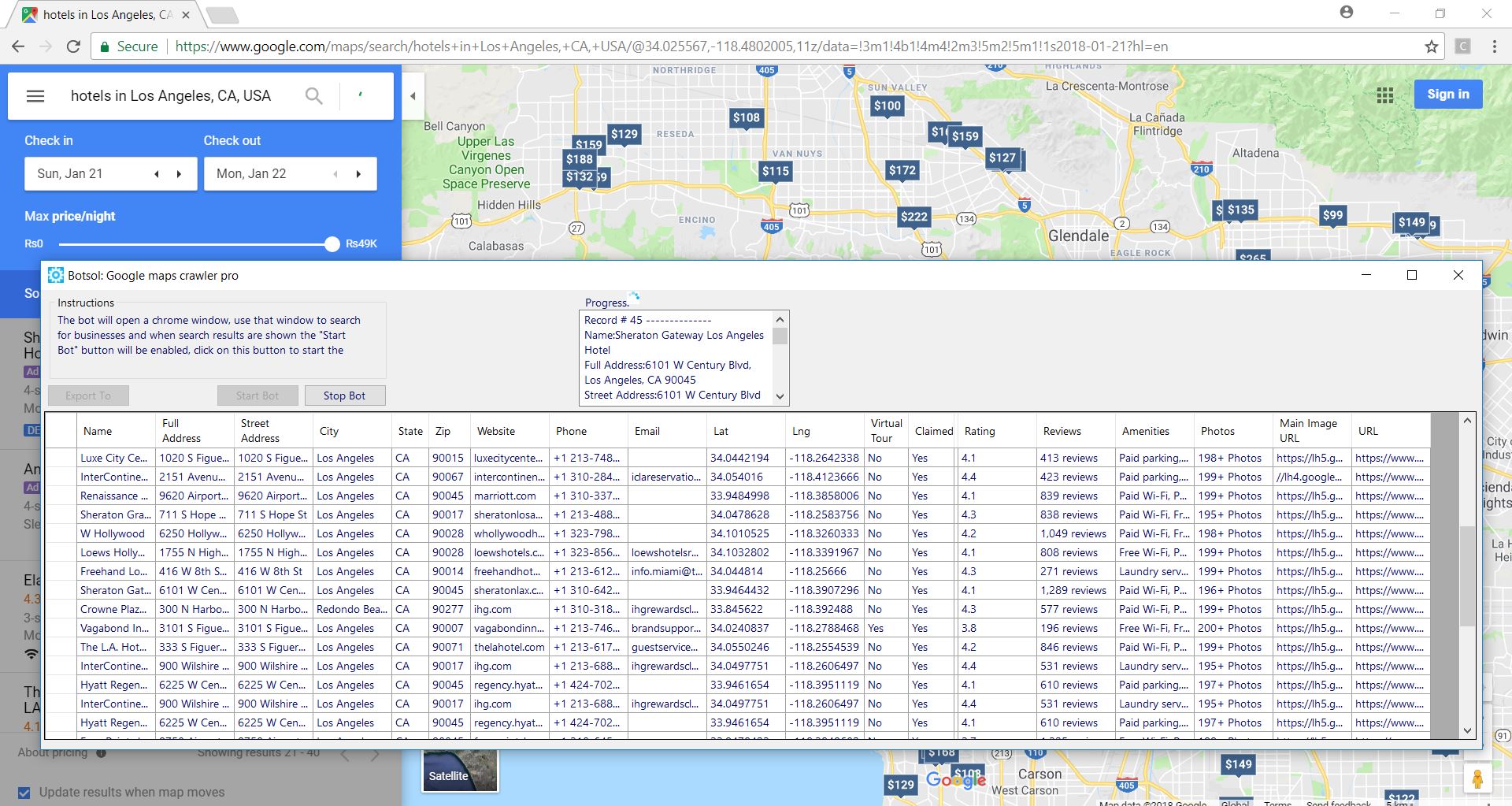 Frequently asked questions
This app may also be known as :
Botsol Crawler
,
Google Maps Scraper
,
Google Maps Extractor
,
GMB Extractor
,
GMB Scraper
,
Google Maps Data Extraction Software
Featured Customer Reviews D. Pieters
Saves you alot of time with extracting business data manually from Google Maps. Works fast with file input, once you know how to define your keywords. Customer support is there when you need it and solves your problem with the app quite quickly.
--- Paul Brindley
Love everything about this tool, but please don't tell my competitors!
--- Corey Kelleher
I have been using this application for 4 months now and it has made my life easier. I am using the Google Maps 2.1 And yes worth every penny. I highly recommend this application!
--- Dan Sullivan
This just works! I save hours of tedious time and don't have to want for others to collect what I need. I just run it and it's there for me. Plus - the service from BotSol is amazing- prompt, friendly and helpful.
--- Alfred Goldberg
This app saved me many hours and time is money. It paid for itself the first time I used it.
--- Timothy Healy
Great software to help extract information from the Google Maps list, and format it to excel. Easy self run software, follow the instructions, search for your personal list of businesses, wait for the software to populate, push a button that exports directly to Excel, and you're finished. Great product!
--- Benjamin Voss
This little gem works like a charm! It's fantastic to see the bot do all the searching for you, collecting the data neatly in a CSV file in the background. Recommended!
--- Egoden Imai
Does exactly what it says, and pulls more data at a much better price than competing apps, if you need to scrape Google business information on google maps, this is the app for you!
--- chris brown
Spectacular!!!!!!!!! Looking for Niche Information on Businesses. The Mail List Companies have JUNK lists. This software is not only well thought out, it works. Not a devious took but a out in the open legitimate resource. Great Job....
--- Ben Rahem
very good software I recommended it for any marketing and sales company 5 stars for saving times 5 stars for smart design 5 stars for great prices please keep up with very good job
--- Edward Beck
I love this app. By chance I did a search and found the Free Google Maps Crawler. This worked so well that after the first run, I bought the full version and plan to get other products as well. This is an incredibly easy app to use to get valuable information for projects or research. Excellent job!
--- Crystal O
Wow! I am completely Blown Away with the Free Version of the Google Maps Crawler!! I am definitely going to upgrade to the paid version because it worked so much better than I was expecting! I am so happy that I found Botsol!!! I am going to be recommending this to anyone that needs to scrape data from Google Maps! Thank you Botsol, you're a lifesaver!
--- Nadine Vorwerk
Everything works as promised. The support is fast, uncomplicated and solution-oriented. Absolute purchase recommendation.
--- alice errett
Literally the most underrated sales tool out there. I LOVE this app. I use is everyday for sales prospecting.
--- Chris Arndt
Very quick and clean code. Easy to use. Definitely adding it to my SEO toolbox.
--- Christian Halsted
This is an excellent tool that quickly grabs the data requested in a Google Maps search. It installs easily and quickly. The interface is easy to use and efficient. The free version did everything I needed for a small mapping project.
--- Eric Park
The developer is very responsive and is a pleasure to work with. The app works great, it can run for days with no problem.
--- Harry Price
Okay, Stop looking for a B2B Scraper as I have tried them all. Nothing comes close to this app for getting new potential clients. You can get mass contact details for any type of business on Google, My scraper has been running all night getting me 10000s of targeted clients. I have just ordered another 2 licences so I can have 3 bots scraping 24h. Amazing product and support, all your B2B contact needs will be fulfilled with this single app.
--- Matthew Kayne
Botsol's suite of crawlers has helped our business grow dramatically. We used to spend $1000's on email lists that never really helped us reach our customers, but now we're growing faster than ever. HIGHLY RECOMMENDED!
--- Gabriela Figueiredo
Adorei esse programa, pois facilita muito. Mas gostaria que ele fosse um pouquinho mais rapido ;)
---
View All Reviews